Rockville, MD Podiatrist Office
Visit our modern, state-of-the-art podiatry office in Rockville to discuss your ailments and possible treatment methods with reputable foot doctors you can trust.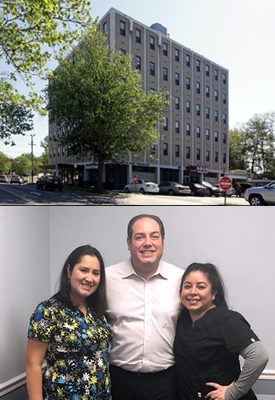 Lakeforest Foot and Ankle Center has four office locations across the state of Maryland in Gaithersburg, Suitland, Rockville, and Bethesda. Our Rockville office in particular has been operating since 2011 in a beautiful, historic building on the corner of Rockville Pike and West Edmonston Drive next to Wintergreen Plaza.
Since our Rockville podiatry office is located on a main road, it's very easy for our patients to find and get to. Plus with free, ample parking around the building, getting in and out for your scheduled consultation or treatment appointment is simple. 50 West Edmonston Drive, Suite 306
The Lakeforest Foot and Ankle Center's Rockville podiatry office is headed up by Dr. Weber, who is on staff at Shady Grove Adventist Hospital and is currently the only foot doctor available at our Rockville location. Fortunately, Dr. Weber is proud to have a terrific staff behind him to assist in providing excellent service to our patients.
In addition to expert staff, our Rockville podiatry office also utilizes the advanced technology of a digital X-ray machine.
Use of digital X-rays in our podiatry office means less radiation for the patient and less wait-time between taking the X-rays and viewing the results. Because the pictures are digitally produced rather than on traditional film, images can be viewed within minutes through a computer screen, then magnified and adjusted to give the doctor and patient a better view. Better X-ray imaging means a clearer understanding of the patient
'
s condition and a more accurate diagnosis overall.
Services provided at our Rockville, MD podiatry office include:
Comprehensive care of foot and foot related issues
Reconstructive foot surgery
Hammertoe treatment
Laser treatment for fungal toenails
Treatment for arch disorders and bunions
Diabetic foot care
KeryFlex Nail Restoration
Treatment for neuromas
Plantar Fasciitis treatment
Treatment for foot infections
Tendonitis treatment and much more.
Unrelenting pain in your feet or ankles, noticeable changes in the skin or nails on your feet, as well as blistering, cracking, scaling and peeling are all common signs that it
'
s time to call your local foot doctor. To schedule an appointment with Lakeforest Foot and Ankle Center
'
s Rockville podiatry office, contact us at
301-340-8666
today. When you come in, simply take the elevator up to the third floor.
Tenley Building
50 West Edmonston Drive, Suite 306
Rockville, MD 20852
Office Hours
| | | |
| --- | --- | --- |
| Monday | | 9:00 am - 5:00 pm |
| Tuesday | | 8:00 am - 5:00 pm |
| Wednesday | | 10:00 am - 6:00 pm |
| Thursday | | 9:00 am - 3:00 pm |
| Friday | | 8:00 am - 4:00 pm |