KeryFlex Nail Restoration System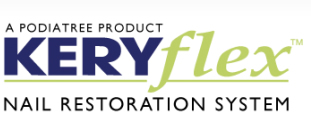 The KeryFlex toenail restoration is the perfect solution for those who have suffered with unsightly toenails due to multiple conditions including, toenail fungus infections! KeryFlex is a safe, nonsystemic in-office application that restores the appearance of patient's natural nails. The patented resin creates a flexible, non-porous nail that allows the remaining natural nails to grow. The KeryFlex nail provides a natural looking nail during oral anti-fungal therapies. It also provides an immediate cosmetic improvement to complement laser fungal treatments. The KeryFlex nail is durable and unaffected by acetone, nail polishes or detergents and restores the appearance of the nail and your confidence!
Why the KeryFlex Nail Restoration System?
Few options for patients with nail disorders (e.g., onychomycosis, diabetes, infections, ingrown nails, psoriasis, onychogryphosis, beau's lines, koilonychia and chronic polyarthritis)
Repeat visits for care because appearance of nails is important to patients
Greater risk of nail-skin infections via nail salon pedicures for their unsightly nails
As shown, the KeryFlex System can be used to address these unmet needs
Current oral antifungal therapy is expensive and often not a viable option for many patients
Benefits of KeryFlex System:
Doesn't irritate the skin
Only sticks to the callous cells of the nail or the papillary roots
Will not bond to skin, allowing a natural edge to be fabricated
Allows patients to use antimicrobial solutions to treat fungal infection
Provides for cosmetically pleasing nails during oral antifungal therapy
KeryFlex nail is durable, flexible and moves with the foot
Works by:
Creating a flexible, nonporous artificial nail, allowing remaining natural nail to re-grow
Providing optimal cosmesis during oral antifungal therapy
Providing optimal cosmesis for non-treatable dystrophic nail disorders
Looking and feeling completely natural
Delivering a variety of hues to match natural nail bed
Unaffected by acetone, nail polish, detergents
Results:
Polymerization process bonds the synthetic resin to the nail bed
KeryFlex resin is extremely strong yet very elastic which adjusts to the rolling motion of the foot
Allows the newly restored nail to function
Before and After




This information is provided to you by the doctors of the LakeForest Foot and Ankle Center.
Call 301-948-3668 for an appointment.